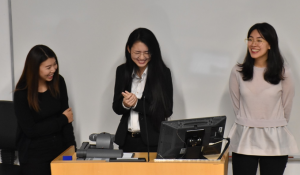 The Capstone (or Final Year) Project is a year-long project carried out independently by final year students under the supervision of a professor. It gives our final year students the opportunity to design, research, and write an in-depth research paper on a self-chosen subject in Chinese Studies to showcase their knowledge in theories and methods, as well as analytical skills and interests in different aspects relating to Greater China learnt from different courses.
To allow enough time to plan and carry out the FYP, all final year students should take the research method course CHES3500 in Final Year Term 1 to formulate a research proposal. Students should also approach teachers as early as possible to discuss their intended project. In Final Year Term 2, students carry out the research and write their paper in multiple drafts. They will receive feedback and comments from their instructors as well as peers and revise their draft into a final paper.
Registration of CHES4500 will be handled by the Centre Office. Students with special requests (such as Advance Standing) should fill out the registration form for CHES3500 and CHES4500 and submit it to the Department Office before the deadline in order to avoid delays in graduation.
The Capstone projects are formally presented in an annual Undergraduate Student Forum at the end of the academic year. Students of all years are welcome and highly encouraged to attend this Forum. This is the opportunity to learn about the projects that your fellow students have done. Come see their presentations and give them your support!
Below are some of the capstone projects our CCS students have conducted in the past few years:
2021-22
History
Sino-Japanese Relationship and Perception of Zhou Enlai in Japanese Newspaper in the 1970s
Development of Oracle Bone Studies and Breakthroughs in Recent Decades
Art and Literature
Hong Kong's Independent Film
Contemporary Chinese Art under Censorship
Chinese Art Auction at Christie's and Wannenes
Gaojia Opera (高甲戲): Inheritance and Development in Southern Fujian
Culture and Society
Cantopop in Search of Identity Recognition
Chinese TV Drama and Popular Cultural Export in the 21st Century
Chinese Masculinity as Perceived by Urban Female Jiulinghou (九零後)
Environmental NGOs in China: A Case Study of Qiandao Lake Water Fund
Guochao (國潮) in Chines Beauty Industry: Cultural Appreciation or Appropriation
Korean Wave in China after THAAD Deployment Decision
Economy and Commerce
Taobao Usage among "Yellow Economic Circle"
China's Online Judicial Auction System: A Case Study in Shenzhen
Online Shopping Platform Choice among Mainland Chinese Students in Hong Kong
Traditional Chinese Craftsmanship in Chinese Luxury Branding
Cathay Pacific: Expansion of the Aviation Business Market from Hong Kong to Mainland China
US-China Technology Hegemony War: Semiconductor and 5G
Impacts of Belt and Road Initiative on RMB internationalization
2020-21
Art and Literature
Traditional Chinese Craftsmanship to build the first Global Chines
The Changing Significance of Female's Image in Contemporary Chinese Cinema
The Continuation of The Thunderstorm: A Case Study of the Play Thunderstorm II
Culture and Society
How the Modernization after the 2000s Affect Desertification in the Chinese Region?
The Sino-Indian Border Dispute and Its Implications on Regional Geopolitics
Buddhism, Gender, and Local Religious Ecology in Fengshun County (豐順縣)
Hong Kong Young Adult Outbound Tourism Under the Global Pandemic
Economy and Commerce
Overseas Expansion of Chinese WeChat Pay in South Korea
Chinese wanghong (網紅), E-commercial Live Streaming and Online Marketing in the "New Media" Era
Social Impact of Z-Generation on China's E-commerce Development
Cadre Personnel Management and Central Political Supervision of China's Regional Financial Systems
2019-20
Art and Literature
Animal Images in Chinese Children's Literature: A Case Study of Yang Hongying's Works
Participatory Art: Anti-Extradition-Bill Movement through Posters
Ip Man Tetralogy: Transformation of Chinese Nationalism in Martial Arts
"Shanghai Literature" and the "Literature of Lower-Class": Stories about Conflict and Fuses in the World of Wang Zhanhei
Culture and Society
Hanfu (漢服) in Hong Kong
Ethnic Identity of Hong Kong Youth
Urban Chinese Women's Pursuit of White and Fair Skin
Putonghua vs. Cantonese: The Future of Hong Kong's Lingua Franca
Son Preferences among the Second-Generation Teochew Youth in Shenzhen
Changes and continuities in the perception of ideal intimate relationship among Chinese Urban Youth
Participation among "Post-95s" Participating in Relief Supply during the 2020 Coronavirus Outbreak
 Business and Economics
Social Credit System and Its Impact on the Regulation and Credit Worthiness Assessment of a Chinese State-Owned Enterprise Operating Abroad
China's High-End Manufacturing Industry: Can China's high-end manufacturing industry overcome the negative country of origin effect?
Why Local Non-Bank Financial Intermediaries Prefer Local Debts: A Structural Perspective of the Home Bias Propensity in Chinese Debt Market (2012-2018)
Strategic Partnership Between China and Korea in Chinese Mediascape 2000 – 2016
What Makes Successful Contemporary Chinese Entrepreneurs? The Brains behind Chinese Unicorns and China Concept Stock Companies
2018-19
Art and Literature
Boys' Love (BL) Fiction as A Virtual Utopia for Female Readers
Contesting Stream-of-Consciousness in Liu Yichang's The Drunkard
Gender Relations in the Chinese TV Drama "Dwelling Narrowness"
IP Movie Industry and Fan Economy in China
 Culture and Society
Belief, Temple and Community: A Case Study of Nau Chi Wan Sam Shan Kwok Wong Temple
An Investigation into the Stigma Towards MSG Amongst Homemakers in Hong Kong
"What does 'Zhongguo' mean to you?": Cultural Identity of University Students from Mainland China, Hong Kong and Taiwan
English or Mandarin? A Dilemma Faced by Bilingual Non-local University Students in Hong Kong
To What Extent Does Discrimination Affect Mainland Chinese Undergraduate Students of CUHK to Remain in Hong Kong or Return to Mainland China after Graduation?
Economy and Commerce
What Do Tightening Anti-Money Laundering Regulations Mean for Hong Kong as a Global Financial Centre?
The Psychological and Behavioural Determinants of Young-adult Mainland China Travelers
How Does University Students' Perception toward Mobile Payment Service Affect Their Willingness to Adopt the New Technology?
A Tale of Two Branches: The Comparative Analysis on the recruitment exercise of the Jiangxi Branch of China Mobile and China Mobile Hong Kong
 Politics and Diplomacy
Between THAAD and Korea's Tourism Industry: An Analysis Using Financial Data
HKU South Asian Muslim Students' View on Muslim Suppression in Xinjiang and Their Willingness to Travel to China
A Study of Return and Escape among Zhiqing in the Rustication Campaign
Success Factors for Domestic and International Venture Companies in China: A Comparative Study
2017-18
Media and Literature
"New woman" or "Modern girl": Female Protagonist in the Short Stories of Feng Yuanjun, Zhang Ailing and Wang Anyi
Chinese Social Media Censorship and Its Impacts on Chinese Students' Using Behaviour in Hong Kong
 Culture and Society
CrossFit in Taiwan
Early Childhood Education System in Shenzhen
Zexiao (Choosing School) and Inequality in Education in Urban China
Shanzhai (山寨) as a Political and Cultural Label in Hong Kong
"Wenming Chengshi (Civilized City)" Program in Kuming as Perceived by the Post-80s/90s
Economy and Commerce
Car Sharing Economy in Greater China: A Case Study of DiDi Quaidi
Online Food Delivery Platform in China
Privacy Concerns over China's Cashless Payment Systems
Impacts of Government Policies on FDI Trends: A Case Study of Tertiary Industry in Shanghai
Wang Hong (Internet Celebrities) Endorsement and Its Impacts on Purchase Intention in Urban China
 Politics and Diplomacy
China's Belt and Road in South-east Asia
A Case Study of Private Sino-African Foreign Direct Investment: Startimes and Huawei in Nigeria and South Africa
Chinese Migration to Vietnam: A Case Study of Chinese Managers in Hai Phong
2010 – 2016 Diplomatic Freeze on Chinese Outbound Tourism to Norway
China's Involvement in the TAZARA Project
2016-17
Art and Literature
Body Art among Taiwanese Youth
Gufeng Music(古風音樂)in China
Contemporary Development of Qinqiang (秦腔) Opera in Xi'an, Shaanxi
Changing Space of the White Cloud Monastery (白雲觀) in Beijing
Chinese Buddhism in the Social Media Era: A Case Study of Buddhism on Sina Weibo
 Culture and Society
'Ant Tribe' (蟻族) in Shenzhen
Death Penalty Reform in China: The Case of Jia Jinglong
Acculturation of Low-skilled Female Migrants in Hong Kong: The Case of Nepalese and Vietnamese Kitchen Workers
Current Situation and Self-Identification of Chinese Chosunjok People in South Korea and China
 Business and Commerce
Hospitality Adaptations for the New Chinese Traveler: The Case of Spain's Melia Hotels & Resorts
The Development of Business Ethics: Comparing South Korea and China
New Media and Young Chinese Consumers:  Young Chinese tourists in Hong Kong and their use of OpenRice for Eating Out
A Shopping Paradox in the Shopping Paradise: A Case Study of E-Consuming Behaviours among Chinese Students in Hong Kong
 Politics and Diplomacy
Influence of High School History Lessons on Mainland Chinese Students' View on Japan
The Democracy Wall Controversy: Ideological Differences Between Hongkong and Mainland Students
China's Engagement with WTO over Dispute Cases with USA, 2014-16
Consolidation of Shipping SOEs in China: A Case Study of Cosco and China Shipping
Challenges for Taiwanese-Owned Industrial Operations in China: A Case Study of a Taiwanese Tire Manufacturer
China's Outbound Investments and Political Risks: Two Politicized Cases in New Zealand and Australia
Examining Shifts in Chinese Government Attitudes toward  North Korea and South Korea in relation to the US Deployment of the THAAD Missile Defense System, 2016 -2017